Encounter with the Double Down
KFC recently challenged me to DOUBLE DOWN. I can only assume this implies that I will have to wager BOTH my dignity and perhaps my life for the chance to earn the pride (or shame) that lasts a lifetime; the knowledge of being the only kid on my block with the cojones large enough to eat an entire DOUBLE DOWN sandwich. It's a good thing the colonel is already deep in his grave because this sandwich surely would have sent him 6 feet under in a matter of moments.
For those of you who don't know, the DOUBLE DOWN is KFC's bold bid to rid the planet of both napkins and breaded buns in one fell swoop. A sandwich where the 'buns' are two fried fillets of chicken. Inside, of course, you'll find monterey and pepper jack cheeses, 'special sauce', and two strips of bacon.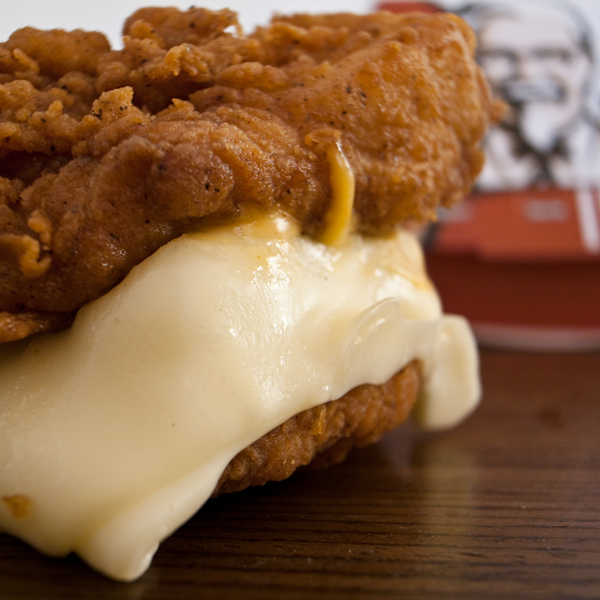 The Double Down is a strange asteroid of a sandwich. As you can see, the appearance is craglike and… unappealing. The sandwich smells good, though! Not unlike… fried chicken! I sit down in the secluded corner of my local KFC to begin my experience… for science, of course.
Upon first clutching the Double Down in my shaky and slightly sweating palms, I can say that supporters of napkins and buns can breathe easy for the time being — napkins and buns will live to see another day. Despite KFC's revolutionary claims, holding the DOUBLE DOWN leaves your hands greasy and soiled, as expected.
I take my first bite… and I taste a familliar flavor, one that has graced the world's finest cuisines for thousands of years…
Salt! Lots of it! Salt! Overwhelming every pore of my body and every atom of my being. 1300+ milligrams of sodium will do that, I guess. It is another 15 seconds and two cups of diet Pepsi before my vision is restored and I am able to continue.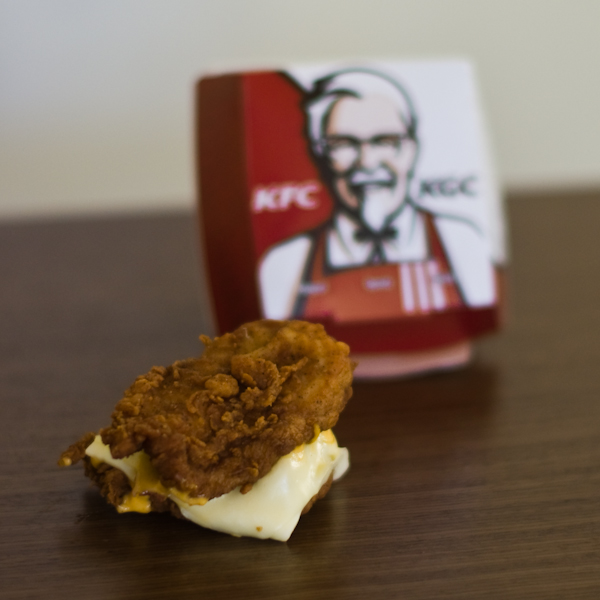 There's bacon, cheese and sauce in this sandwich, supposedly. I mean, I know I can see them, but… I can't taste them. All I can taste is salt. Seriously. Other than that, it tastes like a piece of fried chicken from KFC with some goo inside. Whatever flavor the special sauce contains, I am unable to identify or discern it.
I stumble out of the KFC feeling slightly disappointed. I am still alive, after all. And although I admire the ingenuity of the KFC exec who dared to follow up the company's successful and health-conscious "Kentucky Grilled Chicken" campaign with this abomination, humanity will have to wait with baited breath just a tad longer to witness the demise of the pesky scourge of napkins and buns. I do wonder if the sandwich would not be made more enjoyable with less salt. Then again, it was probably some sodium-based preservative that was behind the campaign to transform a piece of fried chicken into a bun, a notion that seems ridiculous in hindsight.
Try the DOUBLE DOWN for yourself, if you dare.