Let the Games Begin
Can you get Bobby Home?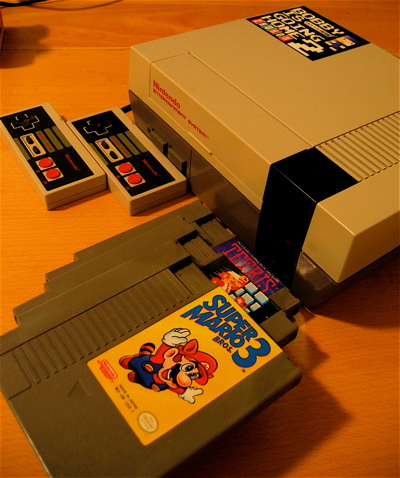 As you may know, Bobby is Going Home 2 is (finally) complete! Although it may seem to be of questionable taste to bribe you to play my game, I'm interested in seeing what sort of scores you can come up with. The player who can send me a screenshot of the highest score by November 15th, 2007 will win this refurbished Nintendo Entertainment System (Bobby is Going Home 2 Edition)!
This veritable and truly unique 'pleasure pak' includes:
1 refurbished NES system (Bobby is Going Home 2 ed.) with replaced pinset
All necessary cords
2 original NES controllers
1 Tetris cartridge
1 Super Mario Bros. / Duck Hunt cartridge
1 Super Mario Bros. 3 cartridge
I believe this package is all you need to have a quality retro gaming blast in your pants. Although the prize is straight notable and although it would be easy to do so, somehow I trust you heady members of my inner circle to abstain from doctoring screenshots.
Goodluck and godspeed, Bobbys-